The Accreditation Network UK is a central resource for tenants, landlords and scheme operators interested in accreditation of private rented housing..
ANUK was formed in May 2002 to publicise, promote and share good practice in accreditation. This was in response to increasing interest in accreditation, including in government and amongst higher education institutions, student representative bodies, local authorities, tenants and private rented sector landlords across the UK.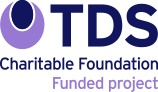 This website has been created thanks to funding from the TDS Charitable Foundation. For more information visit tdsfoundation.org.uk.
ANUK is managed by an Executive Committee comprising representatives from local authorities, national and local landlord associations, the voluntary sector and the Tenancy Deposit Scheme. The work of representatives is voluntary.
Since its inception ANUK has:
hosted a comprehensive website as a resource for scheme developers and operators
developed a core model scheme and core values widely accepted in the sector
produced, with the Local Government Association, a Landlord Handbook, which has become the standard reference work for professional landlords; publishes regular newsletters
produced the Accreditation Handbook
hosted an annual conference for scheme operators
runs two government-approved codes in partnership with Unipol Student Homes
ANUK is administered by Unipol Student Homes, a national student housing charity. More information about Unipol Student Homes can be found at www.unipol.org.uk.